With the development and popularization of 5G technology and 5G mobile phones, electronics consumer store is next retail investment vent. No matter you have own shops or a newcomer, perhaps the followed 5 tips will give you some ideas.
Tip 1: Large French window around the entrance. It guarantees customers can see through the mobile phone interior merchandises display and decoration, meanwhile is a perfect space to show the latest products for the passer-by and improves the potential turnover.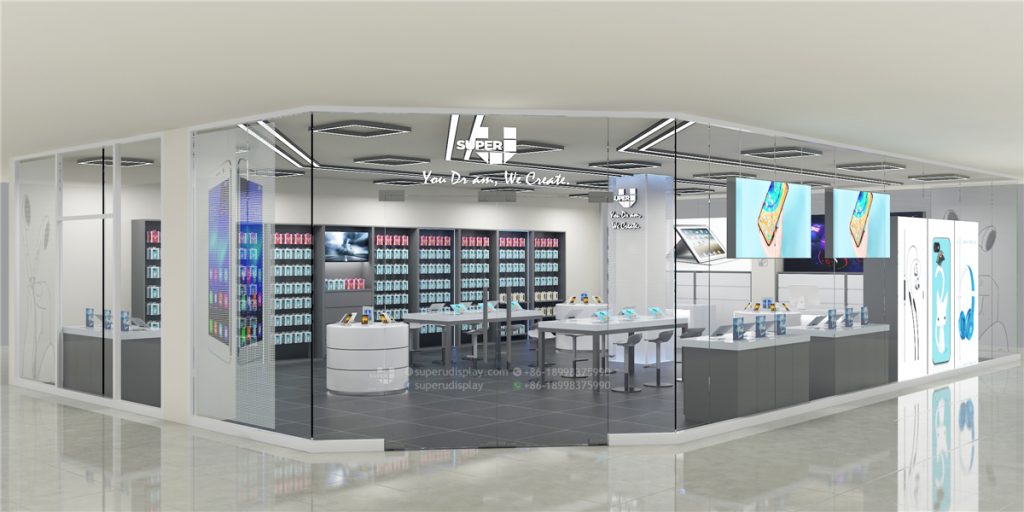 Tip 2: Functional experience zone. Now the retail stores more and more focus on the interactive experience with clients, such as offer the large experience table for customers to touch and try on the mobile devices, and feel the glamour of VR products. And it should be more better to place a sofa or something similar, to enlarge the shopping experience and atmosphere.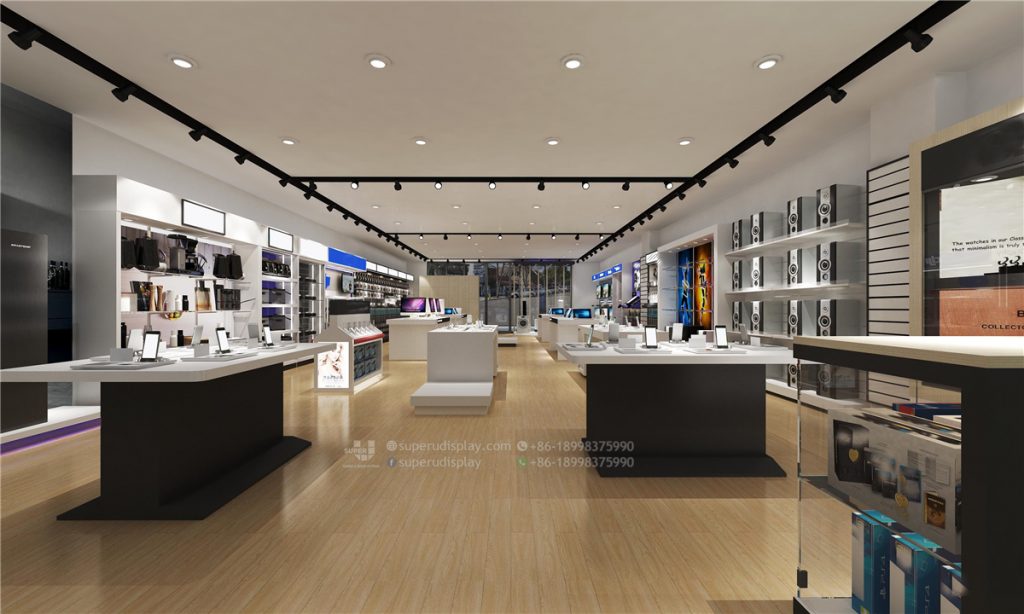 Tip 3: Large poster lighting box. It's a trendy to select the large soft film lighting box to show the latest new launched products and promotion info. As you know, the electronics belongs to the fast moving consumer goods (FMCG), the main function of lighting box is to attract the attention of clients, the soft film lighting box is more cheaper and easier to exchange than traditional one. You can install the lighting box on the cashier backwall, or the entrance wall, to spread the shop activity or eye-catching.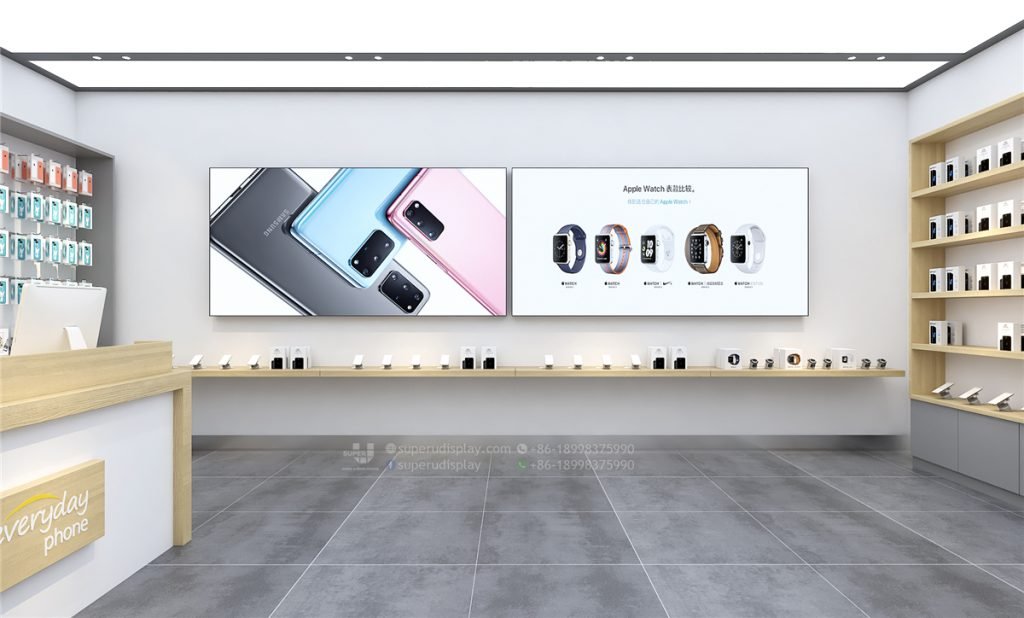 Tip 4: Modular display rack, especially the wall display. It has various size for electronics products, the size like mobile phone case suits to hang with pegs, and the dimension like tablet or computer suit to lay on the shelves. However, sometimes you want to change the display positioning, so it's necessary to make the display accessories with same length just like hook bar and shelf to modulate freely as your thoughts.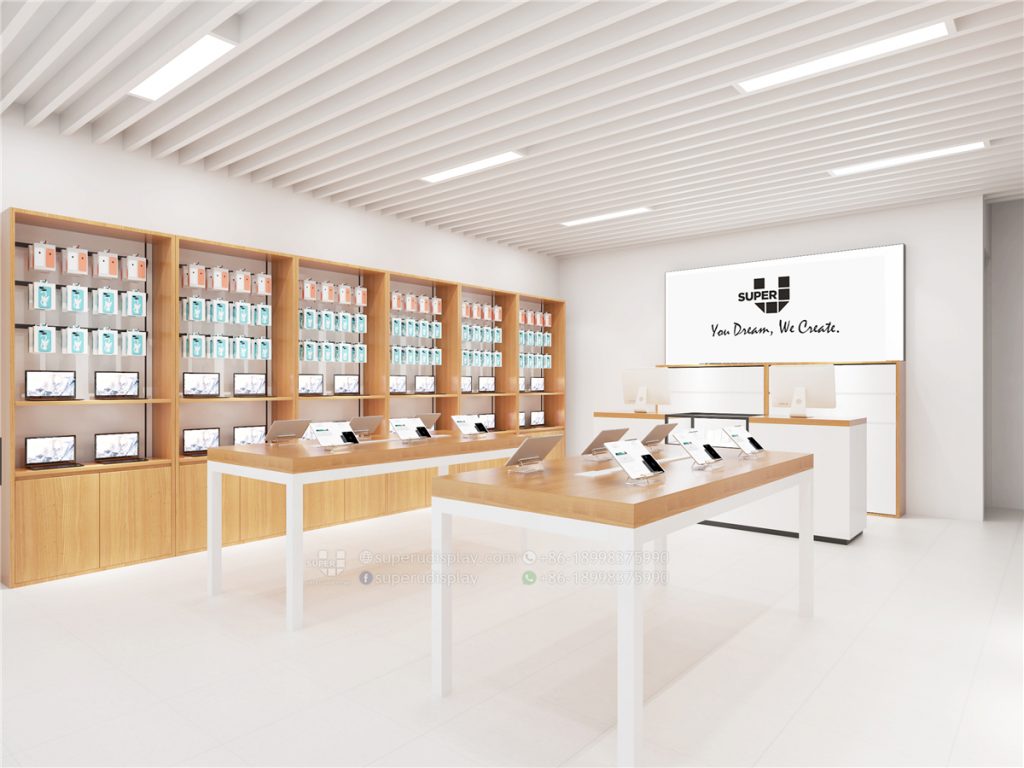 Tip 5: Cooperate with a profound experience company, who has professional team such as consultants, designers, engineers and strong productivity to ensure the lead time. They'll draw the store interior design based on your ideas, brand image and provide professional suggestions like materials, structure, store theme color selection.
We, as a shopfitting company with over 12-year rich experience, have lots of wonderful project cases; if need, why not call us to get more ideas or suggestions for your next retail store!